Introduction
Face Swimsuit – Make your very own face swimsuit in two fabrics and eight sizes. Face-on swimsuit print is a great way to personalize and be colorful all at the same time. Show your appreciation for your hero, partner, pet, or even yourself with a swimsuit with your face on. A swimsuit, a bathing suit, is a garment designed for wearing while swimming. Sea bathing became popular in the mid-19th century when railroads allowed people to get to the beach for their vacations. The first swimsuits concealed most of the body: women wore bloomers, black stockings, and a dress with short sleeves and a skirt; men wore a dark-colored, one-piece, sleeveless garment reaching to the ankles or knees.
Take a Dip While Wearing your Face Swimsuit and Cause a Ripple Amongst the Crowd
Whether paddling with a prince, floating with the fairies, or bathing with your bae, a custom face swimsuit brings together bright colors, smashing selfies, and sensational stickers to create a work of art. With your face-on swimsuit print designed, you can also choose the size and material of your costume and whether you want to have it as an assembled garment or a cut-and-sew kit for a swimsuit with a face-on sewing project.
Eight-face swimsuit sizes
XS to 4XL (UK 2 to 32)
Two Lycra fabric options
Soft Sheen or Slinky Matte
Available as a sewing kit
Deep scoop back design
Face swimsuit with straps
Custom made to order
Design online; see the live preview.
Face Swimsuit with a Difference
So we've seen the trend of blowing up an image of your face and sticking it on the front of a swimsuit, but what if you could express yourself further? Bright background colors don a repeat pattern of your beautiful boat race, and you can even make swimwear with your pet's face using your favorite snap of your furry companion.
One Piece or Two for Suit?
Whether you're bare in a bikini type, the cover-up with a costume type, or something in between, our range of women's swimwear design cater to your needs. Get comfortable and confident with the face pattern design you want. The same goes for the guys; with trunks and shorts, you can opt for something a little more revealing, or if you prefer, go for the baggy beach vibes.
Swimsuit with Pet's Face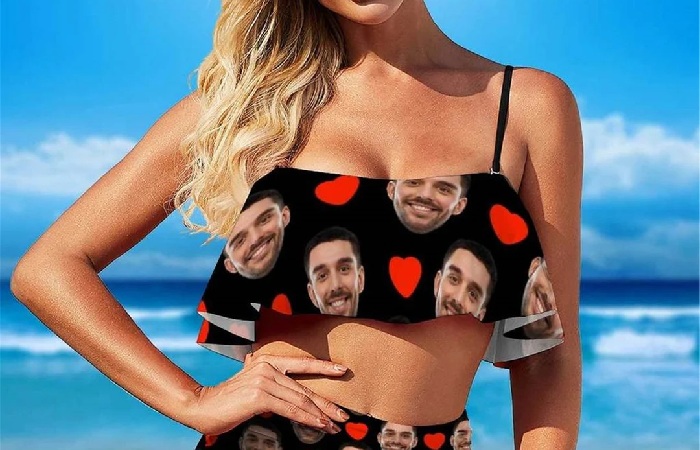 It doesn't have to be a people picture you use; you can make pet face swimwear too. Whether you have a guinea pig or a pony, you can use your favorite photos of them to stick on your swimwear and add the icons of your choice.
Pattern For Suit
You have complete control over the design of the pattern. From which face do you choose to cut out? Choose whether to add icon stickers, what color background to use, and how big and far apart the pattern is. Every change updates in real-time, live, so you can see exactly what you're doing. So take the designer's seat, choose your swimwear product, and go wild.
Design of Face Swimsuit
Design is a crucial step in the manufacturing of swimsuits. As in any aspect of the apparel industry, designers pay close attention to what is worn and what is new in fabric and color. Face Swimsuit designers are also concerned with the fabric's comfort, colorfastness, and elasticity. Designers use a combination of hand sketches and computer-assisted design software (CAD) to create new styles. Hand sketches are enlarged to create paper patterns, and a sample is cut from a material such as muslin. The garment is fitted onto a mannequin and adjusted until. The designer achieves the desired look. Colors and fabric are chosen, and a human model makes and tries a sample. The designer again makes adjustments.
Workers bring bolts of fabric to spreading and measuring tables. The bolts attach to one end of the table, and the material is drawn across the table wrappers around an empty bolt on the other side. The worker turns the open bolt to take up the slack until the fabric is pulled taut across the table. The worker enters predetermined length measurements into an encoder. The encoder then relays the information to electronic blades that cut the fabric.
The Manufacturing Process of Face Swimsuit
The manufacture of swimsuits is a computerized and mechanized process, with factory workers running the machinery and occasionally guiding the fabric. Spools of cotton and synthetic thread load onto knitting machines that weave the threads into fabric rolls. The rolls are fed into large tanks fitted with agitators, and pre-measure amounts of bleach and color dyes release into the tanks. After the fabric has cleaned and dyed to the desired color, it places into drying machines. The material is re-rolled and stored until it needs.
After the entire bolt of fabric is cut into lengths, the worker stacks them in heights up to 6 in (15 cm). They then take the stacks to the piece-cutting machine. Here, another worker operates the computerized machinery that cuts the swimsuit pieces from the lengths of fabric. In smaller factories, pattern marking may be done by hand before cutting the fabric. In larger companies, the pattern dimensions are fed into a computer that relays the information to the cutting machinery.
Quality of Swimsuit
Swimsuits are subject to several tests in the factory before being sold to the public. Tests for fabric and color changes include repeat washings in fresh, salt, and chlorinated water and exposure to simulated sunlight. The suits stretch and weight down before and after washings to determine if they retain their original shapes. Sample suits are given to volunteer testers who report on comfort and wearability to the companies.
By Products/Waste for Swimsuit
The primary waste products result from fabric dyeing and the manufacture of synthetic fabrics. An entire industry dedicates to recycling dyes and synthetic materials now exists to serve the textile industry. Dye solutions are generally purified and reused. The residue from the manufacture of synthetic fabric is used to make other products, especially plastic bottles.
Conclusion
A face swimsuit is an article of clothing used for swimming and sunbathing. The face swimsuit is either a two-piece bra and panty ensemble or a one-piece maillot style for women. Men's swimsuits are either bikini-style briefs or longer and fuller swim trunks. Although swimming is not a natural human ability, people drawn to water since ancient times. The Romans built the first swimming pools; by the first century, they had even created a heated pool. In Japan during this period, swimming events were held every day. Europeans were slower to come to the sport because of widespread fear of infections carried from other bathers through the water.
Also Read: https Service Handyvertrag.de – Traffic and Engagement Analysis
Related posts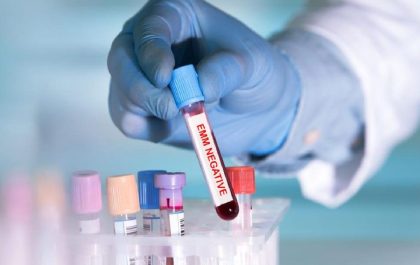 Rajkotupdates.news:EMM-Negative-Rare-Blood-Group-found-in-Rajkot-Man-11th-such-Case-Worldwide
Introduction Rajkotupdates.news:emm-negative-rare-blood-group-found-in-rajkot-man-11th-such-case-worldwide – First, a new blood group has been found in India, which is also the rarest worldwide. A…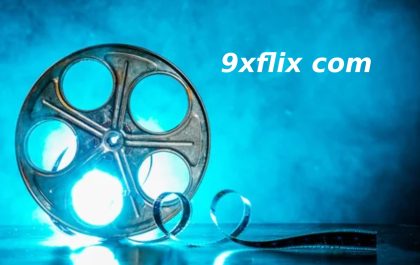 9xflix Com – HD Hollywood and Bollywood Movies Dubbed
9xflix Com 9xflix com: Due to the increasing popularity of online streaming services, moviegoers are always looking for more straightforward…